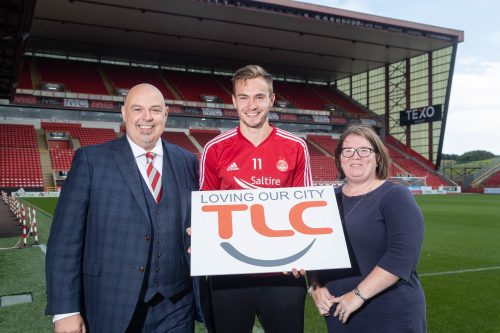 Richard Brooks has been instrumental in giving people a sporting experience that they would not ordinarily have the opportunity to have. Through a financial partnership with Aberdeen Football Club, Richard has been able to bring the action of Pittodrie Stadium to those who have suffered crisis and experienced various elements of social deprivation and social isolation.
Richard, who is the chair of Aberdeen-based charity TLC has partnered with Aberdeen Football Club Community Trust (AFCCT) to sponsor a box in the Main Stand for the second year running.
TLC will invite and organise local community partnerships so that people can enjoy a match from the comfort of the box. The money invested by Richard will also benefit AFCCT participants who will be able to use the private space.
TLC's vision is to help people of all ages who suffer from social isolation and deprivation across the North-east of Scotland, giving them a hand up, not just a handout.
Its initiatives include homeless outreach work, running foodbanks, operating several school breakfast clubs and primary school age youth projects.
Organising volunteers to help with community projects such as school fayres and parks clean-up has played an important part in TLC touching the lives of more than 100,000 people in the North-east since it was founded by Richard and his wife Amy in 2002.
Richard said at a press conference: "We are so pleased to be working in partnership with AFCCT to sponsor this box at Pittodrie a second year. It is through true partnership that we can truly impact our city one community at a time."
"We have made it our mission to focus our efforts back into Aberdeen, supporting communities and local people. This partnership allows us to once again bring reality to one of the TLC core values of, 'giving people a hand up, and not just a hand out'.
"This offers an amazing experience, regenerates aspirations and gives an opportunity to those who may not otherwise have been able to attend a match in this way."
Richard added: "We are looking forward to inviting different charities and groups to the box and hope that our partnership with AFCCT will help to emphasise the importance of making experiences such as going to a football match accessible for all."
AFCCT operates as a charity independently of Aberdeen Football Club, but is very much a part of the foorball club. It aims to provide support and the chance to change lives for the better throughout the North-east.
The charity engages with more than 20,000 participants each year across 60 programmes and initiatives, with volunteers from the organisation delivering more than 5,000 hours of free community support in their spare time. Together with TLC they have made plans 'to do more together than they could ever do apart.
Debra Christie, Community Lottery and Fundraising Officer at AFCCT, added: "The first year of the partnership with TLC was a huge success and we are delighted to be continuing the agreement for the new season. It enables us to give support to many of our own participants as well as other local organisations and individuals. People who have dementia, autism, mental health illness or other conditions may find it difficult to attend a football match so by offering them a quiet space in the comfort of a box they can still experience the excitement on the pitch."
For more information, visit www.RichardBrooks.org, https://www.tlc.org.uk or https://www.afccommunitytrust.org/